Unveiling the Power: Exploring the Performance Features of the Kawasaki Ninja 400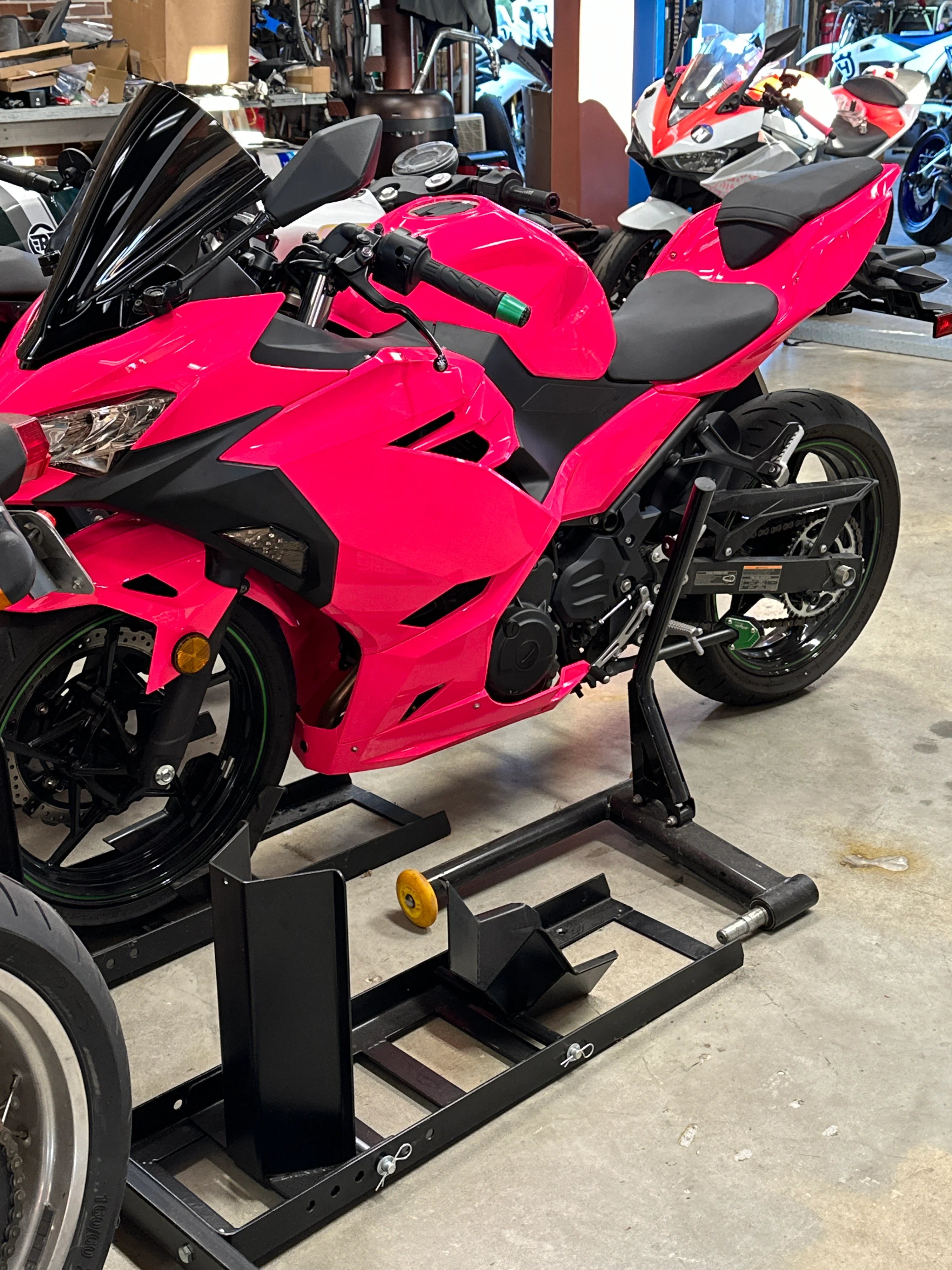 Are you in search of a high-performance motorcycle that delivers power, precision, and excitement on the road? Look no further than the 2018 Kawasaki Ninja 400. In this blog, we'll take you on a thrilling journey through the heart-pounding performance features of this outstanding sportbike. If you've been eyeing a 2018 Kawasaki Ninja 400 for sale, this is your chance to discover why it's considered one of the best in its class.
Harnessing the Power: Engine Performance
The heart of the 2018 Kawasaki Ninja 400 lies in its potent engine. This sportbike is equipped with a 399cc parallel-twin engine that offers a perfect blend of power and efficiency. With 45 horsepower at your disposal, you'll experience exhilarating acceleration and impressive top-end speed. Whether you're cruising on the highway or tackling tight corners, the Ninja 400's engine provides the performance you crave.
Nimble Handling: Chassis and Suspension
One of the standout features of the Ninja 400 is its agile and precise handling. The lightweight trellis frame provides excellent stability and control, making it perfect for riders of all skill levels. Complementing the frame is the sport-tuned suspension that ensures a smooth and comfortable ride, even when the road gets challenging. Whether you're a seasoned rider or a beginner, the Ninja 400's handling capabilities will leave you impressed.
Braking Excellence: Stopping Power
Safety is a top priority, and the 2018 Kawasaki Ninja 400 excels in this aspect. It comes equipped with dual disc brakes in the front and a single disc in the rear, providing you with exceptional stopping power. Whether you're navigating city traffic or enjoying a spirited ride on the open road, you can rely on the Ninja 400's braking system to keep you in control.
Sleek and Aerodynamic Design
The Ninja 400 is not only a beast in terms of performance but also a beauty in design. Kawasaki has carefully crafted this sportbike to be both stylish and aerodynamic. The sleek bodywork not only enhances the bike's aesthetics but also reduces wind resistance, allowing for better stability at high speeds. You'll turn heads wherever you go with the Ninja 400's modern and aggressive appearance.
Comfort matters, especially during long rides. The Ninja 400's rider-focused ergonomics provide a comfortable and natural riding position. The well-padded seat and strategically placed controls make it easy to stay in control while enjoying a relaxed and upright posture. This makes it a great choice for both daily commuting and longer journeys.
Fuel Efficiency and Eco-Friendliness
Performance isn't just about power; it's also about efficiency. The 2018 Kawasaki Ninja 400 is designed to deliver impressive fuel economy, ensuring that your adventures don't break the bank. Additionally, this sportbike complies with modern emissions standards, making it an eco-friendly choice for riders who care about the environment.
Considering a 2018 Kawasaki Ninja 400 for Sale?
If you're considering purchasing a 2018 Kawasaki Ninja 400, you're in for a thrilling riding experience. This sportbike's impressive engine, nimble handling, superior braking, and striking design make it a standout choice in the sportbike category. Whether you're an experienced rider or a novice looking to elevate your riding game, the Ninja 400 has something to offer everyone.
Now, you might be wondering where you can find a 2018 Kawasaki Ninja 400 for sale. Look no further than NOLA Riding Academy. We not only offer a wide range of motorcycle training courses but also provide access to premium motorcycles, including the 2018 Kawasaki Ninja 400. Visit our dealership to explore our selection of motorcycles and take a test ride to experience the power and performance of the Ninja 400 for yourself.
Experience Excellence: The Kawasaki Ninja 400 Difference
The 2018 Kawasaki Ninja 400 is a true powerhouse in the world of sportbikes. With its impressive engine, exceptional handling, and striking design, it offers a complete package for riders seeking an adrenaline-pumping experience on two wheels. Whether you're chasing thrills on the open road or looking for a reliable and stylish commuter, the Ninja 400 is a top contender. Don't miss the opportunity to unleash its power and experience the ride of a lifetime with NOLA Riding Academy.